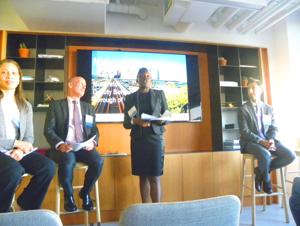 Deputy Borough President Melva Miller, second from right, moderated a discussion about real estate in the borough featuring, from left, Greater Jamaica Development Corporation President and CEO Hope Knight, F&T Group President Michael Meyer and Onex Real Estate Partners Vice President David Brickman.(Photo By Andrew Benjamin)
"Queens is the new Brooklyn."
That's the tagline real estate developers have been using to sell the most diverse borough in New York City. Already places like Astoria, Long Island City and Ridgewood have seen significant increases in rent, artisanal coffee shops and hip bars, much like what has happened over the years in Brooklyn neighborhoods.
Queens has added over 16,700 residents since July 2015 — the most of any borough in New York City. The number is only to get bigger as the demand for housing won't go down.
The Urban Land Institute New York, a nonprofit and research institute on real estate development, hosted a meeting last Thursday on June 9 at Spaces in Long Island City attended mostly by people in the real estate industry. The meeting was held to show why developers should look toward Central Queens as the next commercial and residential real estate hot spot.
"A lot of neighborhoods are growing in Queens," said Deputy Borough President Melva Miller, who moderated the meeting. "We have now reached the point where folks want to come here and develop, start and run their businesses here and spend their money here. We welcome that and want as many partners as possible to help the borough grow."
Michael Meyer, the president of the F&T Group, has developed one of the most notable mixed-use properties, Flushing Commons. "Flushing was a blighted area," Meyer said. He elaborated that due to the development of the area, it has led to Queens being discovered by celebrities like Anthony Bourdain.
David Brickman, vice president of Onex Real Estate Partners, oversaw the development of the Skyview Park, a luxury condo development. He was upfront that central Queens could be difficult to develop for a few reasons, pointing toward the high usage of personal cars as transportation instead of public transportation.
"Long Island City has great transportation. As you move into Queens, unlike Brooklyn, the public transportation is not as robust," said Brickman. "When you visit Jamaica and Flushing, especially in Central Queens, car ownership is way higher. Parking becomes a burden on development."
Hope Knight, president and CEO of the Greater Jamaica Development Corporation, said Jamaica is in need of retailers more than anything else.
Knight said Jamaica currently has a focus on hospitality projects. A Marriott Courtyard and Hilton Garden Inn are in development.
"To support hotel growth, we are looking to diversify retail," Knight said.
Not everyone has the same view as the panelists about the borough and real estate.
Paul Graziano, a resident from Flushing and an urban development consultant, thinks it's "nonsense" that Queens is the new Brooklyn.
"Skyview has created an enormous amount of traffic," he told the Chronicle. "There is a lot more people and cars and more congestion. Flushing Commons is a disaster."
Graziano has yet to see neighborhoods thrive in this rapid urban development cycle. "I think the problem is that neighborhoods thrive when there is a balance between development and preservation and that balance doesn't exist in Queens."